Edito
The 14th edition of Neighbours' Day was an International success and since its launch in Paris in 2000, the festival continues to rise and in fact it has far exceeded the European borders. The party is now celebrated around the world by millions of people – 1500 partner cities, housing organizations and associations are participating in over 36 countries!
 The impressive development of Neighbours' Day is living proof that the desire to promote a "better living together" has no borders!
This year's appointment was the FRIDAY 31st OF MAY 2013.
As part of the 14th edition of Neighbours' Day, the European federation of Local Solidarity is glad to expand its partnership with new Swiss cities and associations which celebrated European Neighbours' Day. Since its launch in Switzerland in 2004, the EFLS welcomed for the first time this year, the city of Freiburg, the township of Pregny-Chambésy, Glâne Ouverte association and Animation socioculturelle Marly.
The event's international success keep growing and in December 2012 the first Indian Neighbours' Day was celebrated with more than 500 000 participants !
In Africa, Botswana officially became the 8th country to celebrate Neighbours' Day.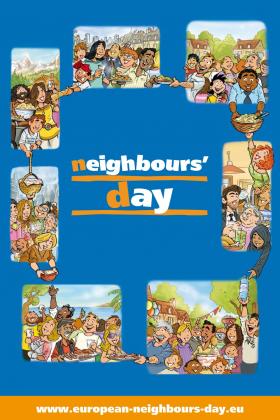 Let's make this fantastic event the occasion to celebrate together the spirit of conviviality and solidarity that are so dear to us! 
Atanase Périfan
E.F.L.S.President - Neighbours' Day Founder

---